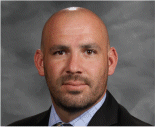 Mountain Home Community and Patrons,

The 2018-19 school year is here! We are thrilled to welcome back all students, parents, and teachers. There are many new faces and several projects happening within the district. It's an exciting time to be a part of the Mountain Home Public Schools family.
I want to thank the staff members that have spent the summer getting us ready for the upcoming school year. Every department -- food services, secretarial, teachers, coaches, guidance, administration, central office personnel, I appreciate all the time, effort, and work you have done. I want to give a special thank you to the maintenance and operations department, who have been working in the summer heat to get our buildings and facilities ready for school. We applaud their efforts and appreciate their work. Every single person on this staff is a valuable and important member of our team, and I believe that if we work toward the common goal of "every student, every time," we will achieve it.
This year I look forward to continuing to build relationships with the staff in the Mountain Home school system as well as with community members. I am here to work for and alongside the students, teachers, parents, and community. The district has a Strategic Plan in place to execute that will benefit our students.
Mountain Home Public Schools is "committed to excellence in education" by going the extra mile for "every student, every time." We have a long-standing tradition of providing the highest level of education for the students in our district. We are thankful for the generous support from our business partners and community organizations and look forward to continuous improvement.
I intend to showcase the great things happening at Mountain Home Public Schools on social media. We are present on Facebook and Twitter. We look forward to working together to share with the online community the wonderful things happening in our classrooms.
It's a great time to be a Bomber. Here's to a wonderful school year!
Jake Long
Superintendent of Schools